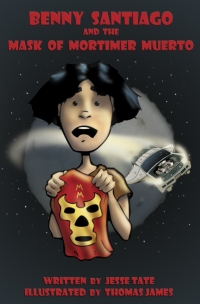 Benny Santiago and the Mask of Mortimer Muerto
Order the eBook Edition for only $6.00 (plus tax for CA residents), and you will receive a fully illustrated electronic PDF version of the book sent to the email address you specify during checkout within 24 hours. Your email address must be valid and capable of receiving a 5 MB file attachment for us to deliver the file promptly.
Click once on the "Buy Now" button below to order and pay securely online using Paypal's Merchant Services, even if you do not have a Paypal account. You may safely pay by credit card, debit card or bank account with 100% protection against fraud or theft.