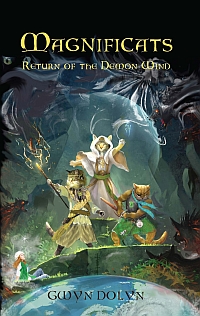 Magnificats: Return of the Demon Wind
by Gwyn Dolyn
Runner-up in the 2017 Hollywood Book Festival Awards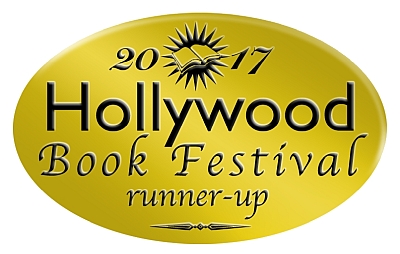 When a gwyllion wind engulfs 13-year-old Apple Standish outside of her Irish middle school, the veil between her everyday reality and an unseen world is momentarily torn away.
Apple catches a glimpse into another ether-world, where she locks eyes with Tak, the feline leader of a clandestine order of numinous nine-lived cats, known by tree folk and fey alike as Magnificats.
The effect of this unseasonable sheegee sweeps Apple out of her attachment to bitterness over her parentsí divorce and into a massive struggle to save the world from a powerful demon wind she accidentally releases.
Along the way, she meets her first true friend, an awkward and isolated foster child with a gift for healing animals named Krystal, as well as Magnificat leaders, including the Clouders,
constant allies of the human race throughout their time on earth, both openly and secretly. The events set in motion entangle both girls in a magical struggle against a terrifying enemy,
and ultimately bring them to a new understanding of courage, purpose, loyalty, and family.

Gwyn Dolyn holds a B.A. in Educational Philosophy, including southwestern Native American learning philosophies, from Prescott College,
and has worked in the field of healing arts for over twenty years. She attended Pacific College of Oriental Medicine at the M.A. level, and taught art from K-12 in court, public,
and private school settings. Her career evolved into Child Protective Services advocacy, which provided her insight behind the iron curtain of the foster care system,
and into the lives of children and teens under conditions of poverty, abuse, and neglect.

Gwyn writes periodically for her local newspaper on military history and American armed services heroes. This experience has taught her what forms a hero.
Magnificat Tak and other characters in this debut novel exhibit those values.

Having traveled to Ireland, the magic that colors the Erin land attuned her to ancient lore.
Why dare to move a tree for a road when it may house a thousand Faerie families (especially since Faeries retaliate in the most uncomfortable ways)?
Why not read the language of trees when a leaf lands at oneís feet? Or listen to a changing wind for direction?
The primary setting for Magnificats could be nowhere other than the enchanted Emerald Isle.

For additional information, news, and resources for educators, please visit the authorís website:

https://www.magnificatbooks.com/
or email her:
gwyndolynauthor@gmail.com

Magnificats is available now in Paperback and Kindle editions at Amazon.com